Intro: Choosing Hardwood Floors
When putting money into any type of investment, it tends to be a bit stressful, even when trying to find your dream floor! For this reason, I hope that I can not only give guidance towards trends that Quality Red Tag Floors has seen with their customers, but also provide information on solid hardwood and how it works when choosing your hardwood floors!
Hardwood flooring is timeless and often the preferred flooring to add value to any home. Hardwood has not only been around for decades, but there are countless products available that mimic the look of hardwood. With the composition of this flooring being a solid ¾ inch hardwood, it will have the amazing ability to be refinished. This is a valued feature as this investment is then able to be refinished multiple times in future years. Solid hardwood is a great flooring choice, and it also adds value to your home if you decide to sell. With so many added benefits, why not toss in one more?! Because every tree is exposed to different climates and environmental factors, all pieces of wood will remain unique. Therefore, you will end up with a stunning floor that is exclusively yours!
Wickham Hardwood Floors:
Quality Red Tag Floors carries a brand of hardwood called Wickham. Wickham solid hardwood is a Canadian originated company and has been manufacturing hardwood floors since 1989. Over the years, Wickham has provided top quality wood and using state of the art technology, provides floors with exceptional durability. Not only is Wickham dedicated to quality, but they are also taking precautions to respect the environment. Two of the many requirements include all waste (wood fibers) are recycled, and the floors have zero VOCs. Wickham hardwood is well diversified in their hardwoods. They boast an immense selection when it comes to collections, wood species, wood grades, color, plank width, and finishes, which we will delve into in this article.
Collections
Through four unique collections, Wickham proudly claims a "refined product that is both competitively priced and easy to work with" Wickham Hardwood. The four collections are Wild West, Winery, Mountain Home, and Domestic. When choosing hardwood floors explore the different styles available!
Wild West
The Wild West collection uses a wire-brushed technique, ten stunning stains, and a matte finish to allow the natural wood grains of Ash and Red Oak to flourish.
Winery Collection
The Winery collection is a vintage floor highlighting the beautiful natural color tones of wood using ten stains and a UV cured matte oil finish.
Mountain Home
The Mountain Home collection is a remarkable piece of art, as each piece of wood is hand-scraped and oiled by skilled artisans who produce an authentic and unique floor.
Domestic
The Domestic wood collection is Quality Red Tag Floors' most popular, and due to its unbeatable customization; we will delve into more detail on this particular collection.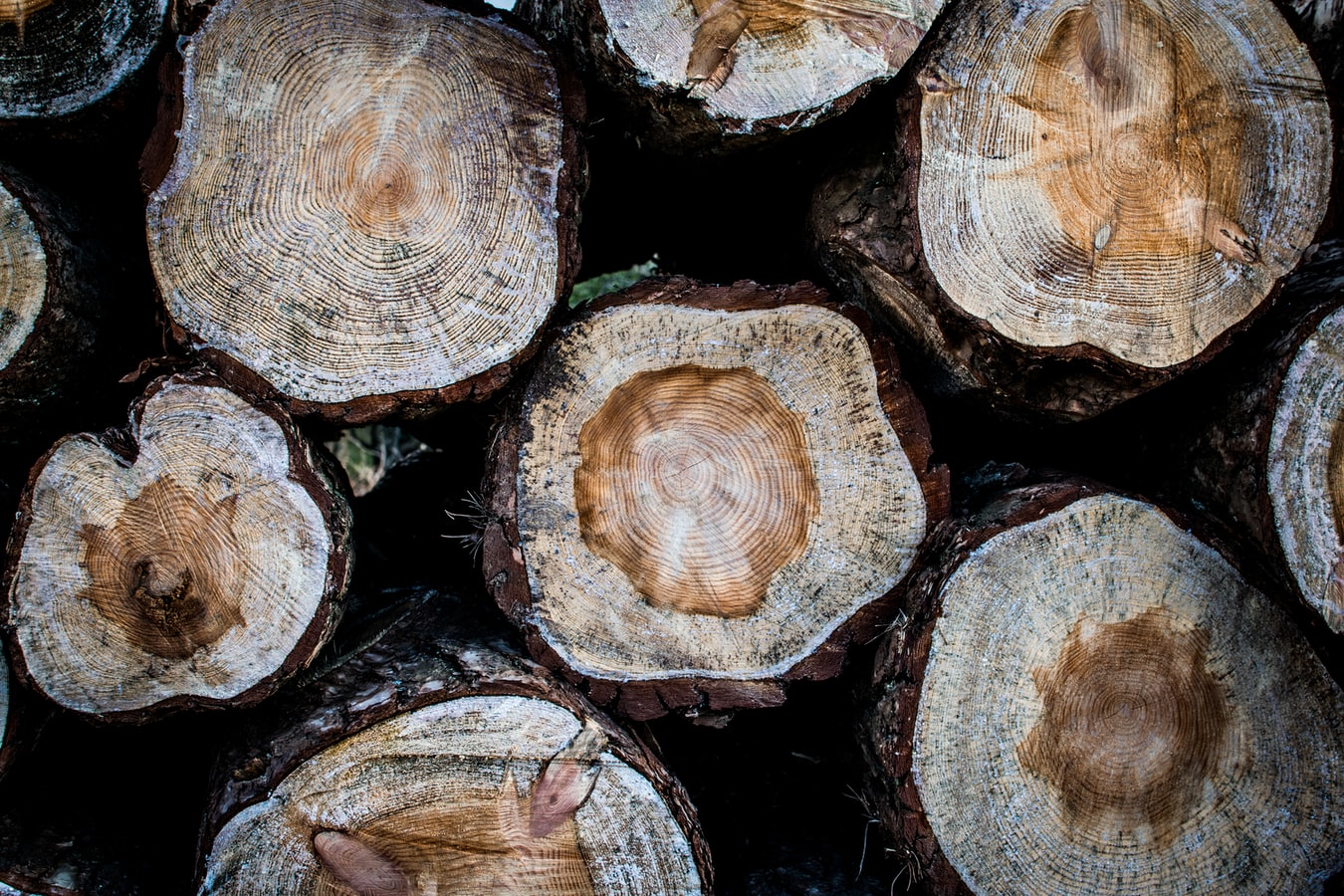 Step 1 Wood Species:
The Domestic collection consists of 7 different and beautiful kinds of wood; Ash, Birch, Cherry, Hickory, Maple, Red Oak, and Walnut harvested from northern trees. If long term durability is important to you, then wood hardness will certainly be something that you will want to consider when choosing hardwood floors. However, a decision should not be hinged on the hardness as all of these woods are superb quality. Due to Wickham's high-end 7-layer finish, which includes an aluminum oxide finish, your floors will be excellently protected from scuffs, scrapes, and scratches.
Hardness Testing
All wood species will have a varying wood hardness, which affects how easily your floor will scratch or dent. The table of wood hardness is valued in pounds through the Janka test. The Janka hardness test is done by measuring how much force is needed to embed a steel ball halfway into a 6-8mm piece of wood. Hickory has the highest rating at 1820, followed by Maple at 1450, Ash at 1320, Red oak at 1290, Birch at 1260, Walnut at 1010, and finally Cherry at 950.

 Here at Quality Red Tag Floors, the most popular wood species sold is Hard Maple. This is partly because of its hardiness and ability to adapt to the dry Alberta climates.  Whatever hardwood flooring you choose; it is a good idea to stick with species that are native to North America as they will provide better overall stability. Feel free to contact us to receive more information on the benefits and styles of each species that Wickham provides.
Step 2 Wood Grades:
The second thing to consider is wood grades. Every piece of wood is split up into 5 categories based on its natural characteristics; Cottage, Builder, Natural, Canadian Plus, and Select & Better.
Cottage Grade
First, the Cottage grade wood is full of character with a mix of heartwood and sap-wood for a natural color, mineral marks, small knots, small checks, small splits, pits, and wormholes. Cottage grade is expressive mix of natural variance and contains 45% Select, 40% Natural, and 15% Rustic grade.  Cottage grade also has the longest average plank length out of all the grades at 40 to 43 inches.
Builder Grade
Second, Builder grade is a mix of 70% Natural and 30% Rustic. The Builder grade has much the same specifications as the cottage grade and includes piling marks, small-splits, checks, pits, and wormholes.  Builder grade also has a decent average length at 27 to 29 inches.
Natural Grade
Third, Natural grade is a floor that has varying shades as it has a nice mix of natural colors, mineral marks, and sound closed knots. No paste filler is accepted.  With an average length of 25 to 29 inches depending on the species and plank width.
Canadian Plus Grade
Fourth, the Canadian Plus grade is a combination of 50% Select & Better and 50% Natural. Throughout this floor, you will find a slight variance in color with some mineral marks and sound knots. With an average plank length of 32 to 36 inches it is the second longest grade.
Select & Better Grade
Fifth, the Select & Better grade is a floor that is very uniform in color. You will not find any knots or mineral stains in this grade. Checks, wormholes, and splits are also not accepted. Fisheyes are accepted under a certain size. Therefore, Select & Better floors tend to be the most expensive because they require the most sorting as it has many specifications for what is deemed acceptable and produces pieces of wood that are uniform in color. The average length in this grade is 30 to 32 inches.
There is also a 6th grade called Rustic that is not advertised in Wickham's list of grades.  For more information see "What Is Wickham Hardwood Rustic Grade?" Regardless of which grade you choose you are sure to receive a high-quality product from Wickham. For Quality Red Tag Floors customers, it comes down to the look they are trying to achieve, as well as budget when it comes to the grade that is chosen.
Step 3 Color:
Third, the next and undoubtedly the most difficult choice, color! When choosing hardwood floors, color will make the most impact on how your space looks and feels.  Wickham hardwood has 25 different stain colors available, with colors ranging from the naturals, browns, greys, and red tones you will be sure to find a color that suits you. For some guidance in deciding what color of flooring you may want to consider, please read "Choosing Your Floor Color -2020". Since these beautiful hardwood floors last a very long time, you want to choose a stain that will suit the look that you are attempting to achieve. No matter what, always choose that you love! I always recommend taking your time with this part. Acquire samples so that you can see the colors in your own home. Move the samples around the house and see the coloring at all different times of the day.
Step 4 Plank Width:
The fourth step in the process of choosing hardwood floors is deciding which  plank width to go with. The standard options for solid hardwood are 2 ¼. 3 ¼, 4 ¼, or 5 inches wide.
Narrow plank floors are used in a traditional setting and often make a room feel larger. If you have humidity fluctuations in your home, a narrower plank will be better suited because the difference in expansion and contraction is significantly less. One drawback of narrow planks is that the narrower width contributes to there being more planks and can take more time to install. Also, a lot of customers find that the narrow planks are more dated than some of the wider ones.
Wide planks are ideal when creating a rustic or contemporary looking space. The wide widths show the grain, color, knots, and imperfections, allowing the room to be one of a kind. However, some challenges of the wide plank are that humidity fluctuations affect the expansion and contraction of the hardwood floors, and gaps can be more noticeable than the narrower planks if humidity is not controlled.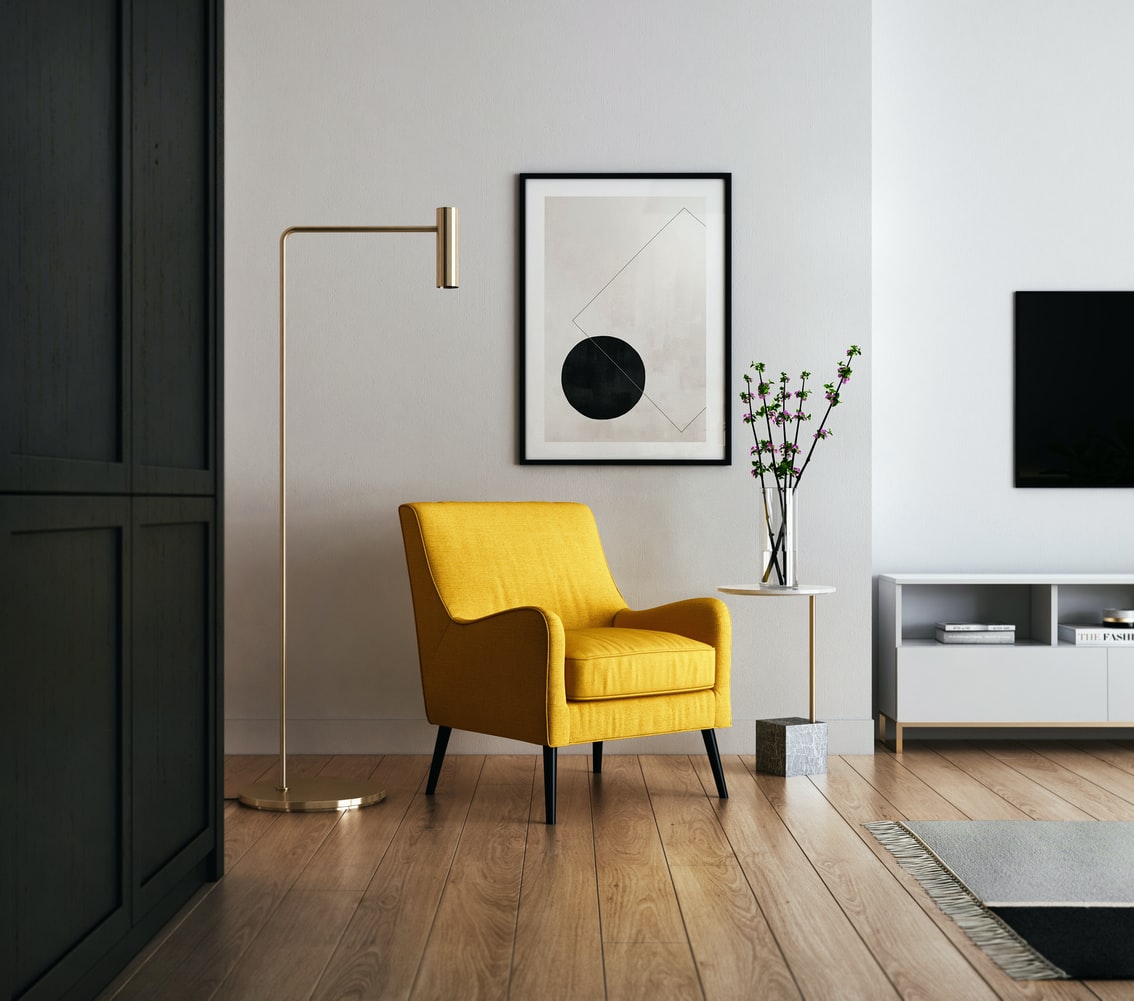 Step 5 Finish:
The fifth and final step when choosing hardwood floors is usually the easiest, the finish on the floors. Wickham offers 3 different finishes: matte, satin, and semi-gloss.
First, Matte is a 10% finish meaning it is the least shiny out of all these floors.   this can look gorgeous and be beneficial for hiding dirt and foot-prints, some customers do tend to find this particular finish to look a bit dull.
Second, is satin, a 35% finish, this is a happy medium between the matte and semi-gloss while neither being super shiny or dull looking. Many find that this finish helps the floor look new for a longer period vs. the other two finishes.
Lastly, semi-gloss, 55% finish is a very shiny floor. While it has very easy maintenance, it does tend to show dust and footprints easily, therefore requiring a regular cleaning schedule.  Floors with a semi-gloss finish also show scratches and scuffs more easily, and in some circumstances can appear to wear unevenly.
Quality Red Tag Floors finds that the most common finish is Satin, but recommends you choose the finish that best suits your style and needs.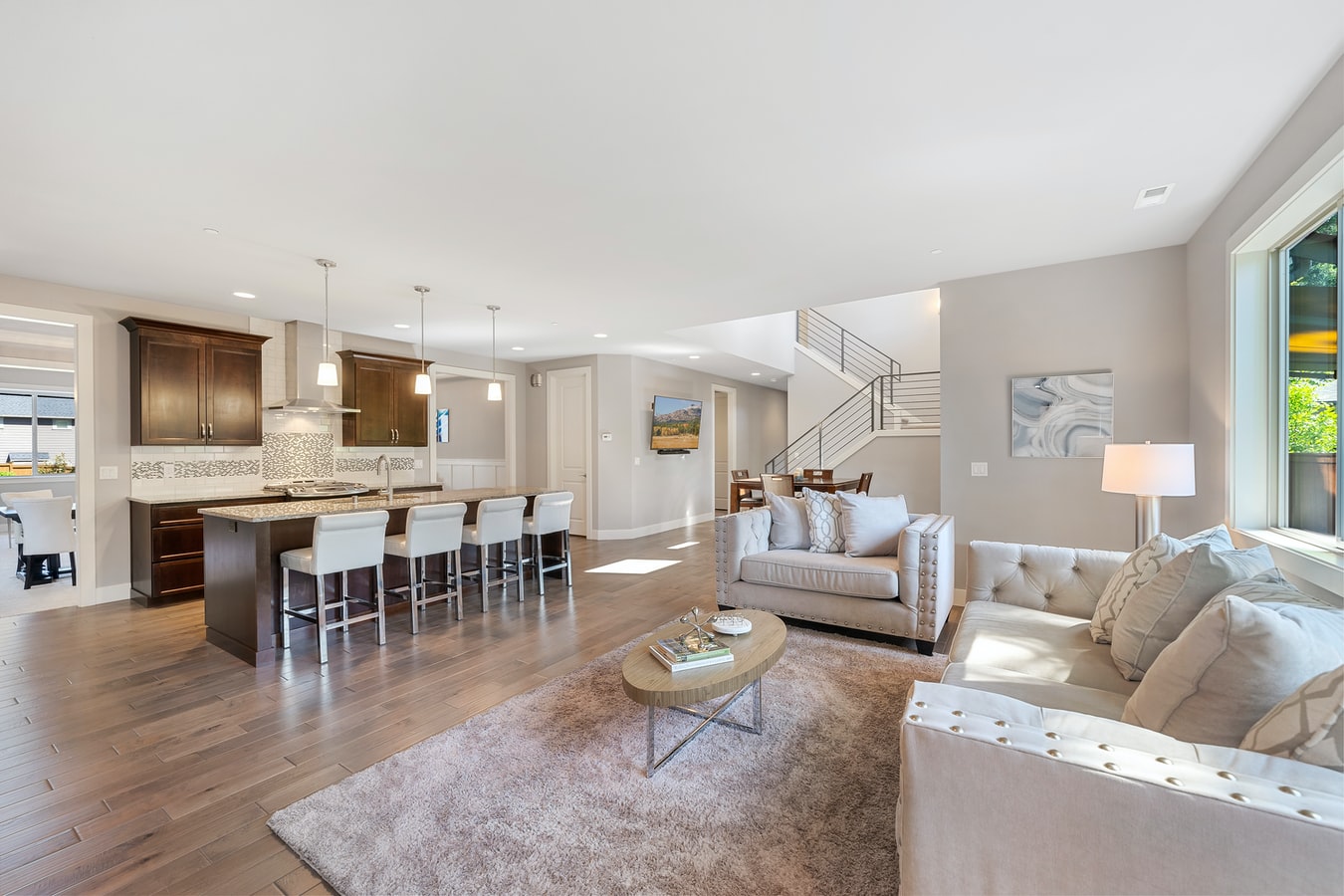 Conclusion
With choosing any hardwood flooring, understand that it can be a lengthy process. Once you have found your perfect hardwood floor you will want to ensure that you maintain consistent humidity in the house to prevent expansion and contraction.  As someone who lives with maple hardwood floors every day in a busy household with both kids and pets, I can honestly say that we don't tiptoe around our floors! The flooring is over 20 years old and is still in amazing condition! Take your time to look at colors and ask questions about the product.  When you are ready, don't second guess yourself. Choosing your hardwood is difficult enough without adding the stress of worrying "Am I making a mistake?" Do this, and I promise you will end up with a floor that you love!